2018.09.21 Friday
Valsesia Lancia Story
1.Who are Tomoko and Yoshi ?
Mr. MORI , Yoshi is his name Yoshinobu for short, was born in 1950 here in Kameoka. He used to be a motocross rider supported by Bridgestone and Yamaha in 1960's. He switched from Motocross to Trials, motor sport trials, in 1972. He started 'Trial Land' as motor cycle trials training course in his mountain in 1972.
2.What is Kameoka Trial Land ?
I opened 'Trial Land' in 1972. It became the most important competition place and training course for trials riders in west Japan. We sell domestic and overseas moto trials as well as repair. And I made original special parts as a pro shop. We started import garage kit from USA and sell them all over Japan in 1995. Import is our main business. We would like to show them how to enjoy garage life with their favorite car. On the other hand we imported Palazzetti grill from Italy.
3.How many friends has Kameoka Trial Land ?
Successive Trial world champs and famous riders as Sammy Miller and Mick Andrews(GB). Many people visit us. As for car mates, we have contact with Lancia club Japan, Switzerland and France. And a member of VSCC(England), well-known Novo family, Bugatti specialist in France. Etc.
We have ever been there to Imola, Padova, Goodwood, Beaulieu and Montlhery and so on. Two of our sons competed at SSDT(Scottish Six Day Trial)
4.When do your passion for old cars began ?
I has never bought any new machine since teen ager. Normal Japanese enjoy driving a new car during 5 or 10 years. After that they give up driving it. I'd like to restore those old cars by myself. I enjoy repairing broken motor cycles and cars and continued it for 50 years. Then I got there to Lancia and ALFA!!
5.What are the models of your cars and their characteristics?
1.Aurelia B20S Serie 4/1954
It came from USA to Japan in late 1980's and we bought it from one of out Japanse friends in 2005. Yoshi restored the engine and main parts for two or three years. Now it is in a good condition. We have no problem when we drive a long touring. The favorite point is torquing full, which means the engine moves very smoothly even in low gear. The front brake drum is in a bad condition. That is a problem.
2. Flaminia Sport 1963
Yoshi got it in 1993 from Swiss. He restored it for 7 or 8 years by himself. He drove it almost for 20 years. So it has been restored once again by Shintaro, one of our sons. Now it is in a perfect condition. Excellent! No problem.
3. Flaminia Touring 1959
Shintaro, son, has been restoring this almost one year. It needs one more year. It will be in a perfect condition.
4. Flaminia Pininnfarina
It is for spare parts.
5. ALFA 6C 1500 (1928) This car took part in Irish GP , 1929 and in many Europe races. Now it is in a perfect condition. Yoshi likes it as an original vintage car. And the characteristic of engine is similar as Aurelia and Flaminia. It is torquing full. The engine moves very smoothly even in low gear. Those cars were produced by Vittorio Jano.
6. SIMCA Rally 2 (1967)
Kameoka Trial Land has been keeping this over 20 years . One of our main business is import of garage. It is for display in our garage. Shintaro also restored it and enjoys his personal driving.
7. Amilcar (1928) special project Kojiro, the other son, works on Amilcar with Gypsy Moth engine(1929), which is an air craft engine.
6.What particular or thing do you love in Lancia cars ?
1.V-shape engine makes short crank shaft. It means a possibility of compact engine. It could be in rear. So that the front is light. The engine of all Lancia is light weight. All cars get the best balance.
2.Balance. I love the perfect balance.
3.I found Vincenzo Lancia's ideas and Vittorio Jano's ideas in Aurelia and Flaminia when I had a restoration of those cars by myself. Amazing. I saw all the works and mechanicals were best. Compared with Ferrari, Maserati and Astonmartin, Jaguar of the same age, I prefer to Lancia.
7.What of Japanese culture would you transfer inside Lancia culture ?
My grandfather and father experienced two major world wars personally and Industrial Revolution at that time. Grandfather got a Ford truck 1937. He was occupied in transportation business with his sons before the war. The way of transportation changed from coach with horses to automobile. Even in Japan not so many but a few automobiles were imported from overseas. It was the time of the Industrial Revolution at dawn in Japan.
On the other hand, 'Art Nouveau' in Europe was expanded at late 19th to early 20th century. Japonism , in particular 'Ukiyoe' which are simple design drawings, influenced over Art Nouveau and Art Decoration. Those cultures give and take good effects each other.
This is my personal opinion. European cars influenced very much Japanese carmakers, in particular the first model of Skyline and Silvia of 'Nissan Prince'. You can find a Flaminia Touring GTL in Nissan Museum. At those days some Lambda and Aprilia were imported to Japan. Actually my Pininfarina Coupe for parts was an imported new car at that time.
To keep it in my garage or to give it up, it is a problem. I still prefer to keeping it on my side. I deeply cherish those things which remain in my mind. You can see all the industrial machines in my collection were made in Japan before the war. Vintage cars and industrial machines which still survive in these days impress me very much.
Thank you.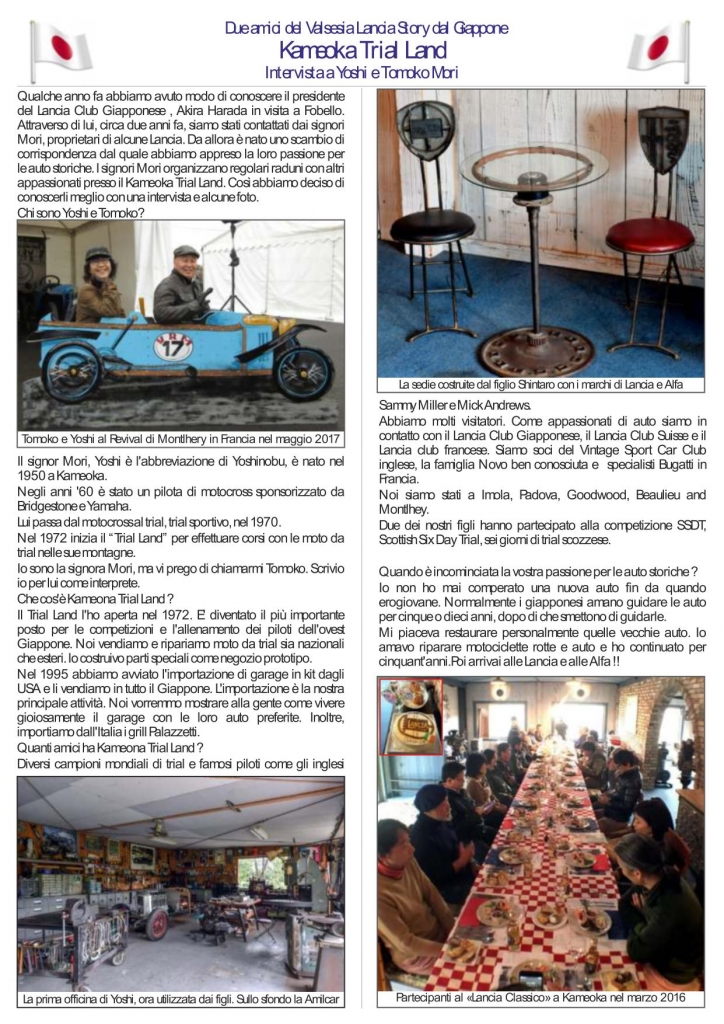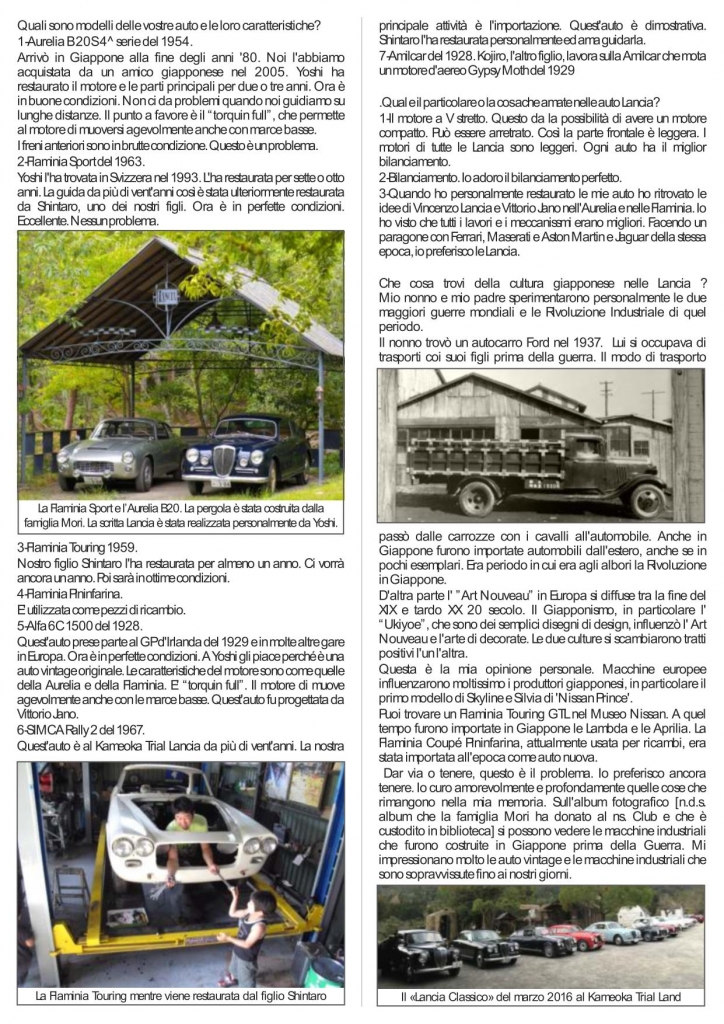 おしゃれなガレージ:関西(京都・大阪・兵庫など)組み立て工事もお任せ下さい。
Calendar

1
2
3
4
5
6
7
8
9
10
11
12
13
14
15
16
17
18
19
20
21
22
23
24
25
26
27
28
29
30
31
Selected Entries
Categories
Archives
Recent Comment

祝!!完走!! La Festa Primavera 2012 with Morgan 1934
⇒ ヤマ (04/28)
祝!!完走!! La Festa Primavera 2012 with Morgan 1934
⇒ マルコウ (04/25)
祝!!完走!! La Festa Primavera 2012 with Morgan 1934
⇒ オガ (04/24)
Links
Profile
Search this site.
Others
Mobile